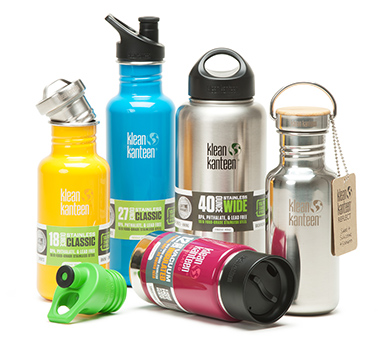 We've always been stainless.

Before Klean Kanteen®, hydration bottles were made from either polycarbonate plastic or aluminum. We now know that both those materials are associated with a host of diseases and illnesses, info that wasn't common knowledge in 2004 when we released the first food-grade stainless bottle onto the market. But there were worrisome studies, even then, that caused us to doubt the safety of bottles that were on the market at that time.
The founders of Klean Kanteen wanted to give health conscious people a safe alternative to plastic and aluminum. So the very first Klean Kanteen was made from high quality, 18/8, food-grade stainless steel – a metal superior in both strength and safety that contains no harmful chemicals or toxins.
Many companies that started out making plastic or aluminum bottles have begun offering stainless steel versions. We got it right the first time because health has always been our top priority, and we have no plans to produce plastic or aluminum products.
To build a reusable water bottle that changed the way people drink (and think), Klean Kanteen had to create something vastly superior to aluminum and plastic bottles, especially the single-use kind.
You don't pay for pretty.
We offer a wide array of gorgeous colors and we use a safe, lead-free, acrylic paint. Fancy graphics often require complex processes and extra materials, which make them expensive to produce. We invest in the highest quality materials in designing functional, durable solutions. Occasionally, we do release special edition bottles with graphics that promote projects, events and causes linked to the things we believe in; health, sustainability and environmental awareness. But even then, our graphics are still printed with the same nontoxic paints at facilities that are committed to strong environmental standards.
Our curved corners and rounded threads make our Kanteens easy-to-clean and sanitary.
All the nice curves on a Klean Kanteen are no accident. Hard corners and sharp angles create a place where dirt and bacteria can stick. The threads on our bottles, canisters, and tumblers curve and sweep. They're also large and far apart so germs and other crud don't get stuck in the threads.
Durability depends on the quality and thickness of the metal.
The thickness of metal is called the gauge: the higher the number, the thinner the metal. We spent years testing bottles with different thicknesses of stainless steel to find the perfect balance between durability and weight. After thousands of scientific, and sometimes less scientific tests, we chose strong, thick steel that meets our rigorous standards. The gauge on our Kanteens, canisters, and tumblers is low, and that's a good thing.
We don't cut corners with cheap materials or processes.
Klean Kanteens have one of two types of thread designs, internal (i.e. classic) or external (i.e. wide-mouth, food canisters, etc.). Both types of threads are made using 100% stainless steel, not plastic or aluminum. It's more costly to make threads from stainless steel, but we place a high value on increased durability and the option of going with a 100% stainless interior.
Imitation of our innovative designs is the highest form of flattery.
Klean Kanteen was the first company to make a stainless bottle for personal hydration. We were also the first to introduce a truly functional Sport Cap that delivers serious flow even on a metal bottle you can't squeeze. The first of its kind, the Reflect raises the bar. Again. Crafted using just sustainably harvested bamboo, food-grade silicone and stainless steel. Beautiful in its simplicity and deliberate in its design, what you don't see is as important as what you do. No paint. No plastic.
Our ongoing mission is to provide durable, long-life solutions to single-use. As we strive to be a model and a leader, sustainability and design will continue to drive our decisions, much as it was a driver of the invention of the first Klean Kanteen itself.